Today I am going to show you another place that I love. Benllech on the Isle of Anglesey. I love going to the beach, but I hate beaches that are surrounded by arcades, fun fairs and markets. Benllech isn't. Its just a beach, with an ice cream hut, beach shop, cafe and pub nearby. The landscape is beautiful, and the Irish Sea water is clear, meaning that all my children spend ages in it on a hot day...even Child #1!
Yesterday we had lots to do in the day and therefore we decided to set off for the beach late in the day and stay for sunset instead. That's the other thing I like about beaches, the way the atmosphere changes throughout the day. Benllech is invaded by holiday makers all day in the summer however, at around 4pm, they all start to leave. Then the locals turn up with body boards, dogs and bottles of wine. The most spoken language changes from Scouse back to Welsh by then too!
We arrived around 4pm yesterday and, as it was still really hot, it was fairly busy, so we sat eating ice creams and watching everyone leave. This amused me when I noticed that, for some reason, families never walk side by side on the beach...they all walk in a line...why is this? I'm sure we do this too!
We stayed there until 6:30pm when everyone was hungry and the familiar whiny voices began. Anglesey's best Fish and Chip shop (according to Google - the Oracle of all knowledge in my life) is a short drive from the beach. The Jolly Fryer!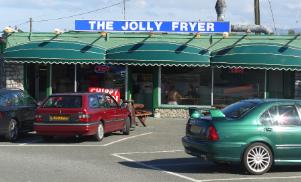 Unfortunately it seemed that everyone that I watched leave the beach earlier in the day was now in the queue I was about to join! Nevermind...25 minutes later we finally left the shop to return to the beach.
The beach was now a very different scene to earlier, yet still not empty. There were a couple of BBQ's taking place, a camp fire, a beach party and a couple of very committed beach lovers that had been there all day but were just determined to make the most of the day! (Along with the aforementioned dog walkers etc.)
So we sat, eating fish and chips, and taking it all in. With the seagulls for company...I can't think why that would be. They aren't stupid either...they stayed particularly close to child #3, and it didn't take them long to persuade him to part with a couple of chips!
As the sun went down we sat chatting (well bickering would be more accurate to be honest...my children aren't that perfect!). When the sun had nearly vanished I took one more picture before we left...